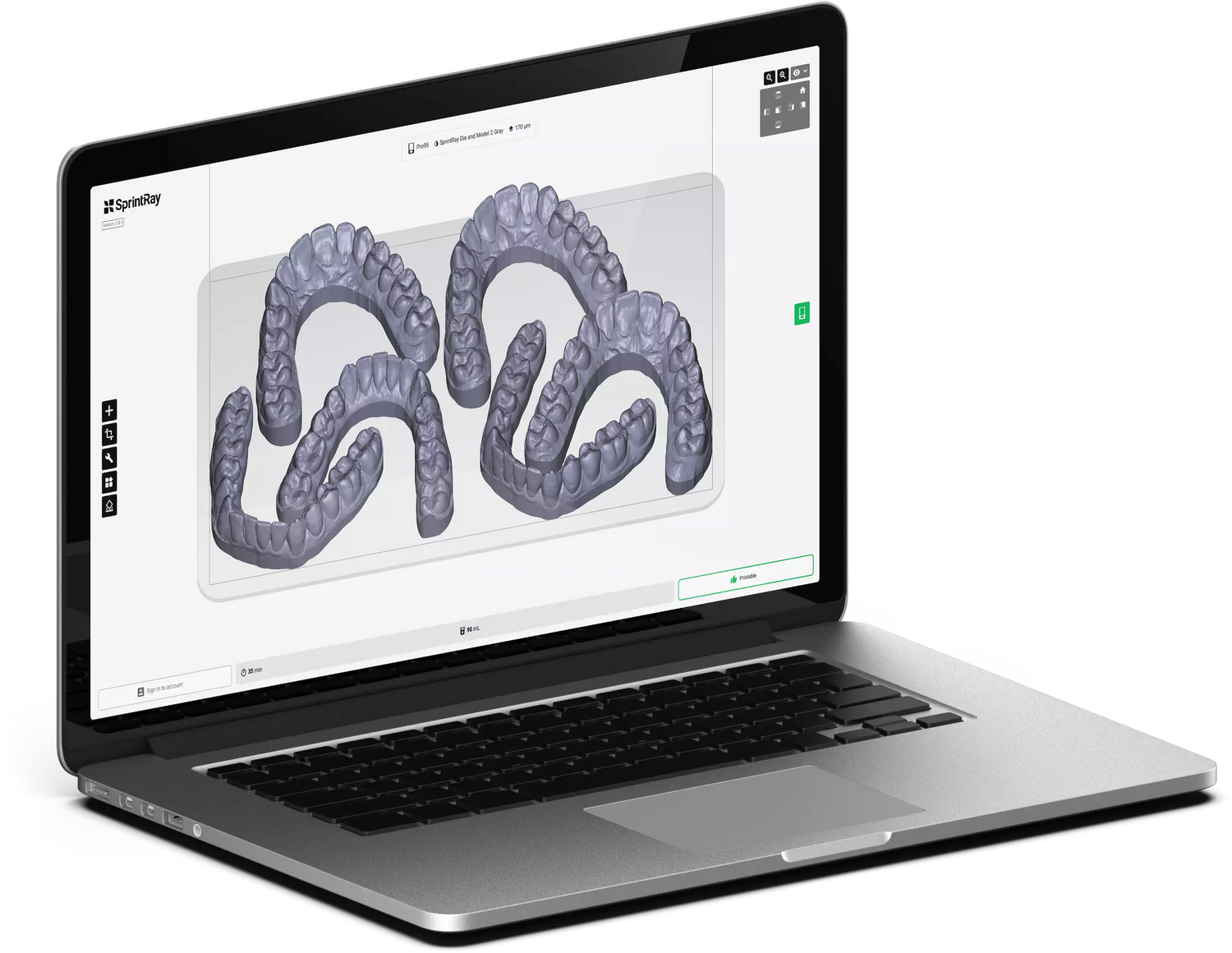 Automated Dental 3D Printing Software.
RayWare is the central hub of the SprintRay dental 3D printing experience. Designed specifically for dental professionals, its user-friendly interface makes it easy to learn while its powerful CAD automation features help improve efficiency. What's more, it operates in tandem with your SprintRay products to help unlock new pathways to practice control.
Upgrade your SprintRay 3D Printer
Upgrade Available for Free via RayWare 2.5 and up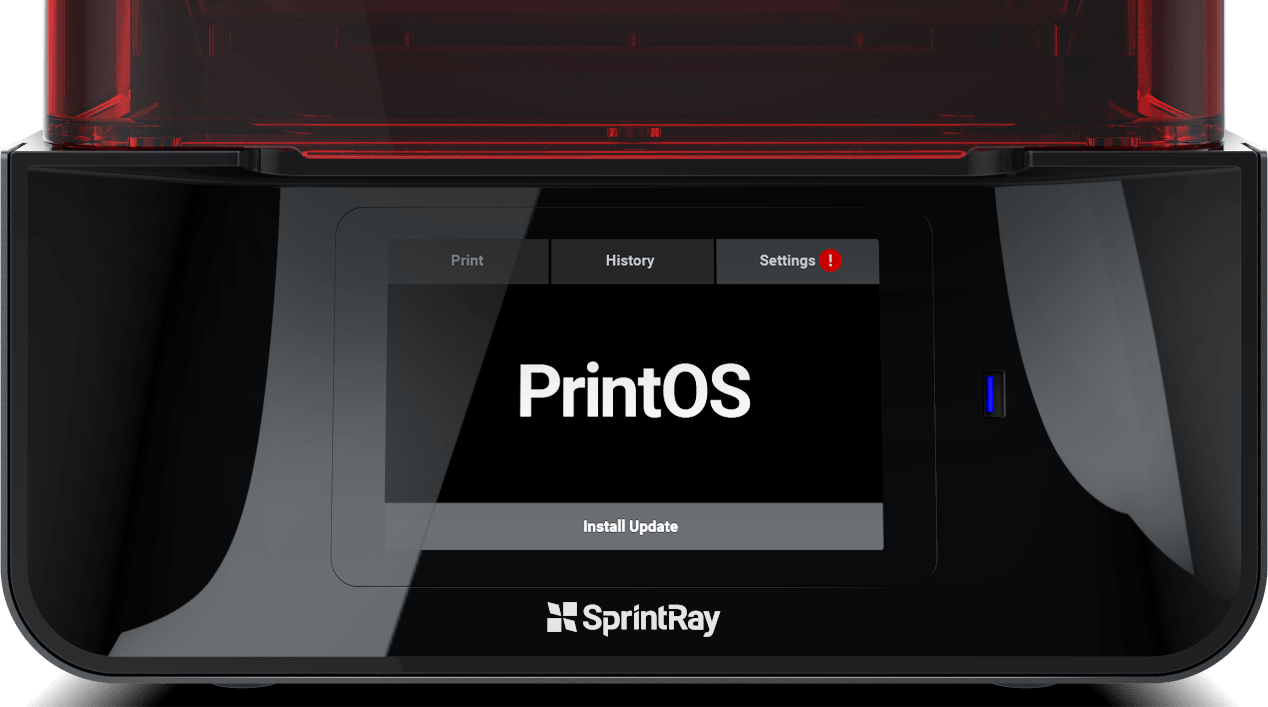 PrintOS Updates

Sub Header
The latest version of PrintOS enables all the new features available on SprintRay Pro. To update, install the latest version of RayWare and then make sure your printer is connected to the same WiFi network as your computer, then look for the notification in your 'Settings' tab.To install, follow the instructions on your Pro's touchscreen > Settings.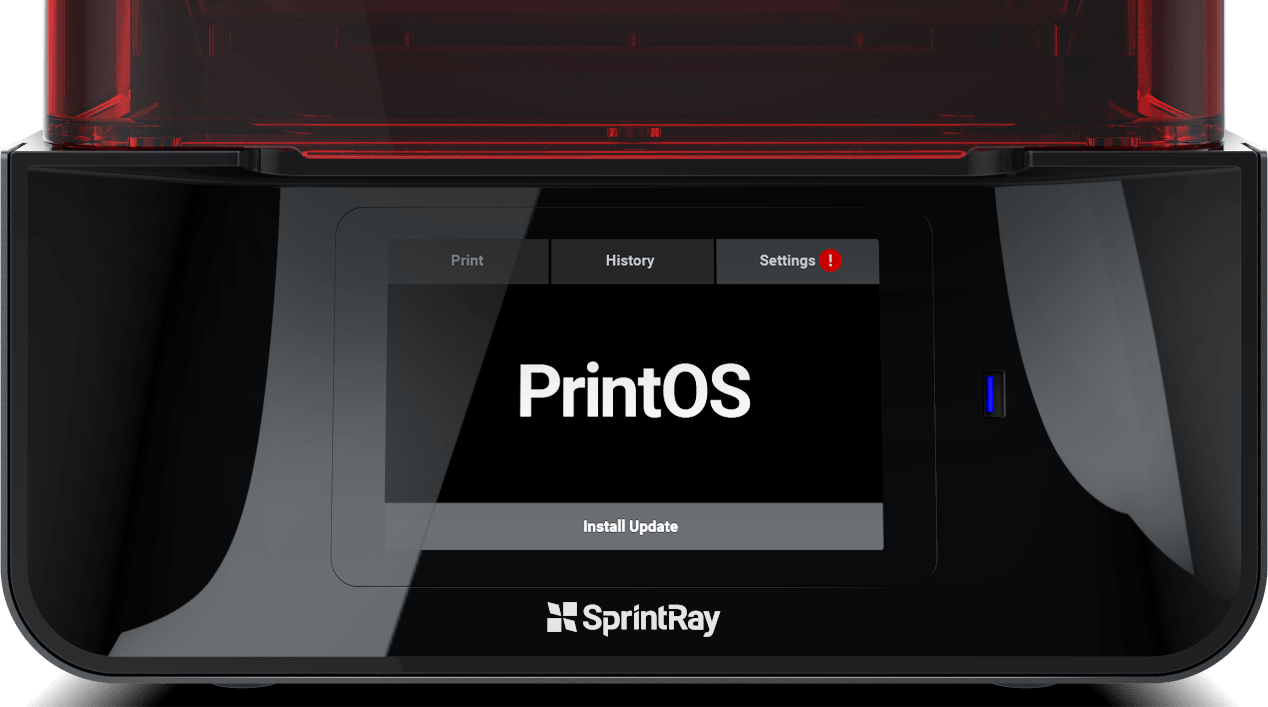 ProCure Updater

Sub Header
To update ProCure firmware, you'll need to use the USB cable that came in the box with your ProCure to connect to a computer. Updates include new resin profiles.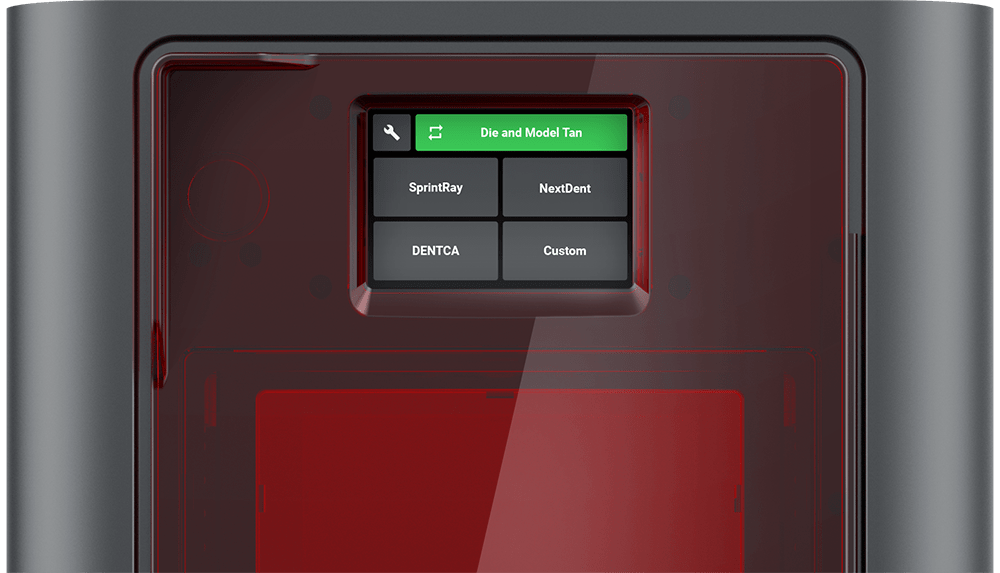 Always Forward, Continuously Improving
RayWare is more than just an intermediary step between scan and print. It's the embodiment of the SprintRay philosophy to keep things simple, focused, and to leverage every possible avenue to improve our products. The best part? RayWare is always getting better.

The process of taking your 3D model and slicing it into hundreds or thousands of individual printed layers can be quite resource intensive. With Parallel Slicing, a print job is divided up into component parts that are then simultaneously tackled by subdivisions of the computer's hardware. Because the new slicer operates on the entire job in parallel, the computing hardware is used much more efficiently. Users can experience up to 10X faster slicing speeds, especially with taller models.

A triumph at the intersection of hardware and software, Pixel Toning uses advanced software to dynamically adjust each projector flash on a pixel-by-pixel basis to drastically increase surface smoothness. This technology works along both the XY and Z axes, creating models with unparalleled surface quality, all without making any changes to the printer hardware. With Pixel Toning, you'll have to look twice to believe it isn't stone.

Thanks to Pixel Toning, printing at 175-micron layer height now produces models with acceptable surface quality and accuracy. Ludicrous Speed unlocks the production capability of your SprintRay Pro, cutting model production times by up to 75%. Produce a full plate of models for patient presentation in as few as 15 minutes, making it even easier to deliver same- or next-day wax-ups.

SprintRay loves to increase access to innovation in dental 3D printing, even if it doesn't come directly from us. The industry-unique Open Certified Resin System ensures that clinicians always have access to the world's best materials by validating 3rd party resins. Our engineering and product teams collaborate with resin partners all over the world to test and validate these 3rd party materials for our 3D printers so that you have the flexibility to practice your way.
Effortlessly import your raw intraoral scans and make them printable with the click of a button. SprintRay Scan Repair uses advanced machine learning to close and base your raw intraoral scan data, allowing you to rapidly create a diagnostic model or a model for the production of a clear retainer. This workflow requires no 3rd party software and is completed entirely in RayWare, offering an incredibly efficient, user-friendly path to model production.
Part of RayWare's advanced CAD feature set, Plane Cut allows you to make rapid edits to any model. Using Plane Cut allows you to reduce the height of flat models, increasing print speed and decreasing resin usage for a more efficient print. When used in tandem with One-Click Scan Repair, Plane Cut gives you the power to go directly from print to scan with no intermediary 3rd party software.
RayWare scans all of your models before you print in order to detect potential issues before you start a job. RayWare is able to detect unrepaired scans or damaged models, unsupported models, lack of adhesion to the base of platform and many other situations where you need to ensure about printability of your models before sending them to the printer.
While flat dental models can be printed directly to the platform, most biocompatible appliances do not have a perfectly level surface. Support structures ensure that your models stick to the platform and print successfully. SprintRay's custom support system offers high rates of success and allows you to make customizations to the support structures as necessary.
SprintRay Pro and RayWare work together to offer always-on, cloud-connected status updates. Thanks to its onboard computer, Pro is able to deliver remote job monitoring, resin consumption statistics, and much more. These cloud features are available for free, and simply require an internet connection.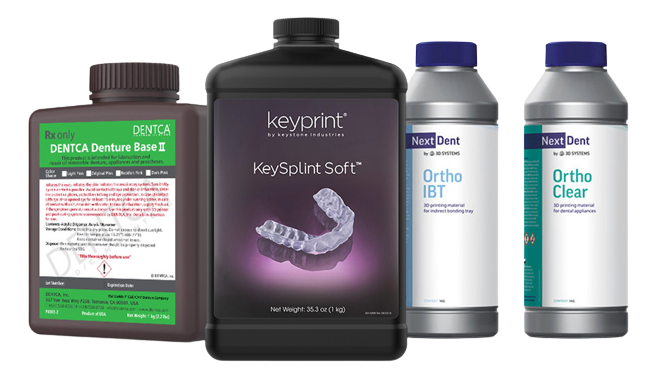 RayWare places your practice on the cutting edge with materials from the world's leading dental resin suppliers. Print with peace of mind, knowing that each validated resin has been tested in our lab and is fully supported by our technicians. RayWare is for dental printing pioneers, experts, and industry leaders.